First - Learn about what is an avatar and how your avatar needs to be as unique as you are.
Second - Before signing up at SecondLife.com, review my Intro to Second Life lessons both Part 1 and Part 2.
The Second Life Viewer, that is the program you use to enter the immersive environment of Second Life, has updates so the Viewer may appear different when you choose to join. The basics are the same. We will customize your avatar, so don't worry about how you start out. Shopping is actually a great learning experience and I create a lot of apparel that you might like too.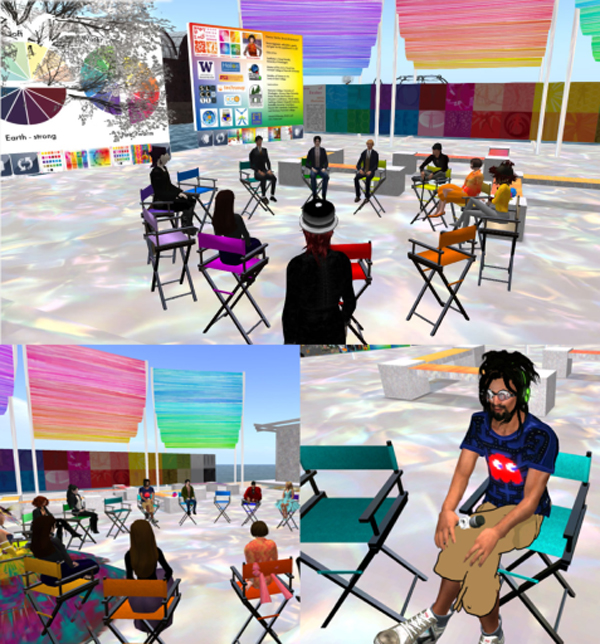 When you enter Second Life you will find there are many places you can go to, please teleport to my classroom where you can join us for assistance, classes, and my Virtual Office Hours on Tuesdays. Locations in Second Life have a Landmark or a SLURL, they are like a web address. You can click on this link to teleport to my classroom or paste it in your address bar in your Viewer while in Second Life. http://slurl.com/secondlife/Brauni/180/0/22/
Extra Videos to review for more insight about Virtual World Application, Advocacy and Artistry.
I work with my friend Gentle / Alice through Virtual Ability, Inc. and the Nonprofits Commons in Second LIfe.
My friend Gracie / Kristine created a mixed reality event that included portraits from her 1000 Avatars Project, a physical art reception in a Los Angeles Gallery, and a virtual setting to mirror the physical one. Guests interacted in both places and discussed the nature of avatars and virtual world use.
The Drax Files: World Makers is by my friend Draxtor / Bernhard about creative people in Second Life. This is one that shows how the physical and virtual can mix.
Draxtor / Bernhard created a video series about the Kansas To Cairo Project. Students from Cairo and Los Angeles used the virtual world of Second Life to design a large open space situated between the Grand Egyptian Museum and the Pyramids of Giza.
Imagine walking through a Vincent Van Gogh painting. You can a world of your dreams or dreams of the past. Here are some videos sharing expression in Second Life.
The Drax File with Jo Yardley shares how she created a community through her profession and passion.
Hypatia / Patty's machinima of Scottius / Scott's installation "The Docks" includes the narrative by Sangreal and Hypatia.
This is a fun promotional video by my friend Pooky that she produced for Second Life to welcome you to explore opportunities with friendships, creating your avatar, adventures, and content creation forged in this virtual hub. There are lots of tutorials about Second Life at their YouTube Channel and don't be afraid to ask others for help. We have a "Pay it forward" community and all understand what it was like to be new to virtual worlds.