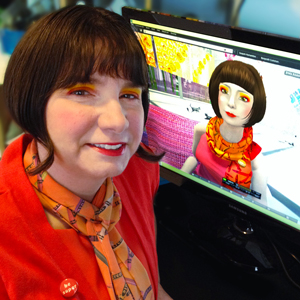 An artist, instructor, and superhero empowering people to be their best virtual and tangible self by advancing excellence, exceptional pursuits, and individualism through creative expression and encouraging instruction with inspired results.
Actively teaches college level fine art and digital media, as well as, creative business owner who specializes in color perception, intention, and utilization to create motivating, engaging experiences with innovative identity development, marketing, social media, events, and immersive environments for businesses, nonprofits, educational institutions, organizations, and communities.
An award winning artist, educator, nonprofit establisher, board member, and Arts advocate who only uses her superpowers for good.
Education
Masters of Fine Art in Visual Arts, Vermont College at Norwich University, 2001

Bachelors of Science in Art, Lewis & Clark College, 1993

Certificate Virtual Worlds, University of Washington, 2009

Color, Sculpture, Digital, Identity, Apparel, Superhero, and Distance Education Emphasis
Awards
John and Suanne Roueche Excellence Award, League for Innovation in the Community College
Support of Serving Students With Disabilities, Peninsula College
3rd Place for Presentation, Virtual Worlds Best Practices in Education Conference
Individual Significantly Contributing to the Arts Award Pacific Grove Arts Commission and Pacific Grove Friends of the Arts
Community Service Award Volunteer Center of Monterey County
1st Place Prize in Painting
Monterey County 29th November Adult Competitive
Artistic Recognition Certificate
Eastern Washington University School of Fine Arts
Coordinator
Peninsula College, Multimedia Communications Department Coordinator, 2013 to Present
Peninsula College, Magic of Cinema Co-Chair and Moving Pictures Film Festival Director, 2012 to Present
University of Washington Avalumni Council, Co-Chair and Education Events Team Leader, 2010 to present
The Museum Collective, Inc., Vice President & Secretary, 2008 to present
Burning Down the House Creative Collective, Founder and Chair, 2007 to present
CommonGround @ Nonprofit Commons, Coordinator and Host, 2008 to present
Peninsula College, Sequim Community Education Coordinator, 2010
Museum & Arts Center in the Sequim–Dungeness Valley, Volunteer Coordinator, 2007 - 2009
Professional Experience - Instructor

Digital Media and Fine Arts Instruction
Peninsula College, Adjunct Faculty and Advisor, 2008 to present
Museum & Arts Center in the Sequim – Dungeness Valley, Instructor, 2006 to 2009
Monterey Peninsula College, Adjunct Instructor, 1997 - 2003
The Lyceum of Monterey County, Instructor, 2000 - 2001
Monterey Museum of Art, Seideneck Intern, 1995 - 1996
La Mesa Elementary School, ARTWORKS Coordinator and Instructor, 1994 -1995
Lewis and Clark College, Art Department Teaching Assistant, 1993
unique as you and hue are you?, personal business, Instructor, 1993 to present
Distance Education, Social Media, and Virtual Worlds Instruction
Innovations Conference for Excellence in Community Colleges, Presenter, 2017

Virtual Worlds Best Practices in Education Conference, Presenter and Panelist, 2017, 2016, 2015, 2014, 2013, 2012, and 2011
New Media Consortium Conference, Presenter, 2016, 2015, and 2014
Moodle for Teachers - Second Life MOOC, Presenter, 2016

Federal Consortium for Virtual Worlds Conference, National Defense University, Instructor, 2015 and 2012
Annual GeekGirlCon, Presenter, 2014

Olympic Peninsula Tourism Summit, Presenter, 2012

University of Washington, Certificate in Virtual Worlds, Hourly Lecturer and Mentor, 2010 to 2011

Arizona State University, Virtual World Mentor and Consultant, 2010 to 2011
Sequim Humanities and Arts Alliance's Cultural Connections, Guest Lecturer, 2009 to 2013
TechSoup Global Nonprofit Commons in Second Life, Educational Mentor, 2008 to present
Event Planner | Fund Raiser | Grant Writer
First Friday Art Walk Sequim, Producer and Sponsor, 2006 to present
Nonprofit Commons in Second Life, Co-Community Manager and Special Event Team Leader, 2008 to present
Annual North Olympic Fiber Arts Festival Director, 2006 to present
Pacific Grove Art Center, Fundraising Committee Chair, 1996 - 2000
Monterey Museum of Art, Special Event Fundraiser, Holiday Festival and Sweet Charity Chair, and Chocolate Cha Cha Cha Committee Member, 1996 - 1997
PDF Resume and CV